Peterson Monuments & Design
110 NE 3rd St • Abilene, KS 67410
US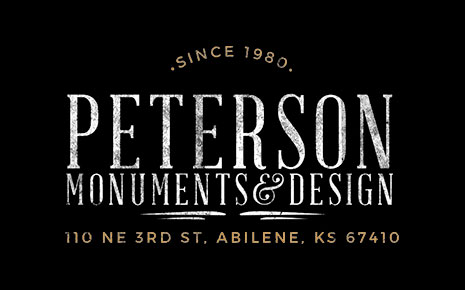 V.E. Peterson started the family monument business in 1928. His three sons joined him as the family business expanded. Grandson, Lynn Peterson, started working for the company as a youth under the guidance of his grandfather and his father; he literally grew up in the monument trade. After attend college four years and attaining a degree in Business, Lynn returned to the company. He has learned the skills and crafts of the monument business from the masters.
In 2011, as technology changed, Lynn created Peterson Monuments & Design, INC, and has continued his family's tradition of creating and setting quality granite monuments, bronze markers and plaques, civic and military memorials, and helping families in Central Kansas honor the memories of those they love. Peterson Monuments & Design is a Better Business Bureau (BBB) accredited organization, a member of the AbileneArea Chamber of Commerce and a member of the Monument Builders of North America.
His daughter, Andrea Peterson McCook, has proudly joined Peterson Monuments & Design as the fourth generation to continue the company traditions of quality products, superior service and commitment to the community and those we serve.